ALTAIR 5.6-04

TECHNICAL DATA
ELVORTI ™ appliances are quality time-tested appliances. ELVORTI ™ products are manufactured from high strength steel according to European standards. As a result, buying ELVORTI ™, you get 50% more in terms of rigidity, strength and elasticity of the structure, which significantly increases the service life of the units.
ALTAIR is a range of cultivators designed for inter-row cultivation of row crops with simultaneous application of granular mineral fertilizers. Provides high-quality loosening of the soil in the aisles to a given depth with the destruction of weeds.
The presence of a transport device allows the cultivator to be transported by general-purpose roads with a width of 2.1 m.
There is a variant of using the cultivator for continuous cultivation with razor paws, as well as for hilling. Steel holders of the tines of the shares withstand significant loads.
The rotation from the support-drive wheels is transmitted to the shaft of the fertilizer dispenser. The seeding rate of fertilizers is set using gear mechanisms. The universal design of the wheel drive makes it easy to transfer the cultivator from the working position to the transport one.
An unloading hatch is provided in the fertilizer hopper to remove the residues of mineral fertilizers.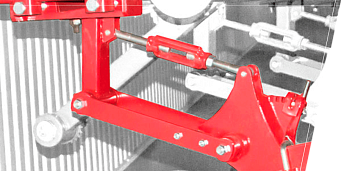 PARALLELOGRAM SUSPENSION OF SECTIONS
Rigid parallelogram suspension of the sections of the working bodies precludes damage to crops and ensures copying of the soil relief. All units are made of European steels and mounted on sealed rolling bearings, which increases the unit's service life.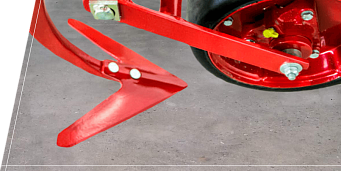 OWN TOWELS
Wear-resistant tines of our own production are installed on the ALTAIR inter-row cultivators, special boron steel is used for their manufacture, which made it possible to increase the service life of the tines by 100%. Steel holders of the tines of the shares withstand significant loads.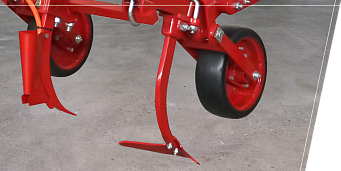 RUBBER TIRES OF SECTION ROLLERS
Rubber tires of the track rollers of the sections ensure their self-cleaning from the soil and maintain a given depth.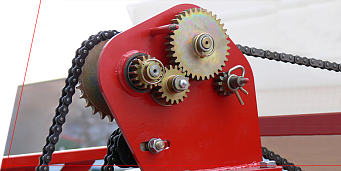 GEAR MECHANISM
Fertilizer application rate is set using modernized gear mechanisms with thickened steel gears.
TRANSPORTATION DEVICE
Reliable transport device allows the cultivator to be transported on public roads with a width of 2.1 m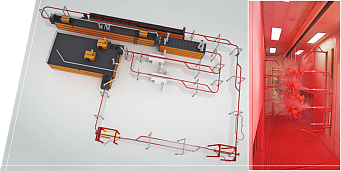 POWDER COATING
Production line was equipped with a powder coating line -Ideal-line (Denmark). This painting technology makes it possible to produce high-quality paintwork with a guaranteed service life up to 8 years.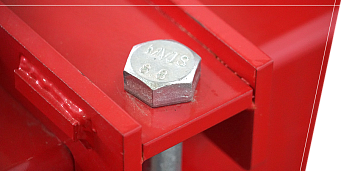 HIGH-STRENGTH HARDWARE
Usege of hardware with a strength class, at least 8.8, ensures reliability and durability of exploitation.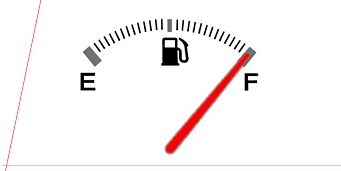 FUEL CONSUMPTION
Fuel consumption when working with a 80 hp tractor is 4.6 l/ha.