ALCOR multi-purpose productive seeding system

TECHNICAL DATA
The universal productive sowing complex ALCOR is designed for continuous sowing of grain, leguminous and small-seeded crops. Ideal for direct seeding and seeding into pre-treated soil.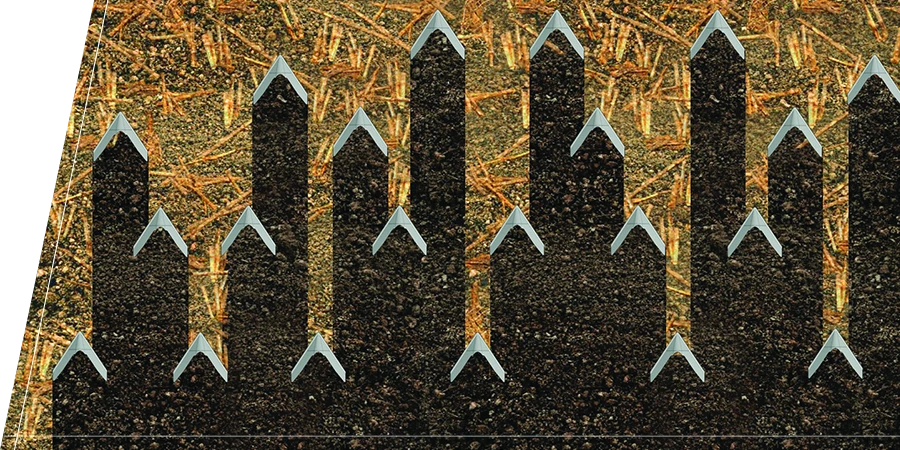 SOLID SEEDING INCREASES PRODUCTIVITY UP TO 25%
With solid sowing, productivity will always be greater - this is main observation of our satisfied customers. ALCOR seeding complex performs solid sowing to depth of 30 to 120 mm with a clearly consistent sowing rate, provides each sprout with 3-4 times more feeding area than with row sowing. Thanks to this technology, productivity increases up to 25%, as well as quality of grain.
MAIN ADVANTAGES OF SOLID SEEDING FROM FARMERS WHO TESTED THIS TECHNOLOGY ON THEIR FIELDS WITH SC ALCOR 12: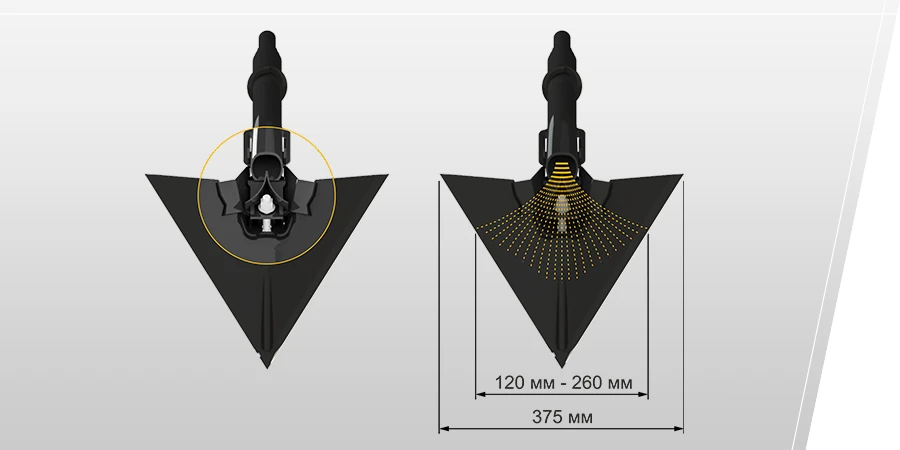 1. More area of nutrition and lighting for cultivated plants.
2. Field area is used optimally.
3. Significant savings on herbicides, since there is no room for weeds to develop.
4. At time of sowing, seeds and fertilizers are evenly distributed over area and fertilizers don't burn seeds.
5. Solid seeding is perfect shade. If there are row spacings in field, then soil intensively loses moisture due to evaporation. It is along interrow distance spacings that deep longitudinal cracks appear, which tear plant roots. Solid sowing completely covers surface of field with a shade, creates comfortable conditions for development of seedlings and preservation of moisture.
6. Moisture - from air. Abundant dew gives up to 1 mm of precipitation per night. Additionally, you can get up to 50 liters of water per square meter per season, which is equivalent to few good rains.
UNIVERSALITY
2 in 1. ALCOR seeding complex is pneumatic seeder and fertilizer unit, as well as heavy cultivator with soil cultivation depth of up to 18 cm in one implement:seeding unit can be removed and only cultivator can be used. This solution allows you to effectively optimize seeding and tillage park equipment.
Technology of sowing. ALCOR is intended for solid sowing of grain crops using direct sowing and Mini-till technologies. Resource-saving technology - makes it possible to take care of the ecosystem of your field, avoiding such technological operations as plowing and pre-sowing processing.
Wide range of seeding. ALCOR is intended for sowing cereals, legumes, small-seeded and other crops. Thanks to seeding device and variator, seeding rate from 3 to 350 kg per hectare is achieved, this complex can sow almost any crop, which also eliminates need to purchase additional seeding units.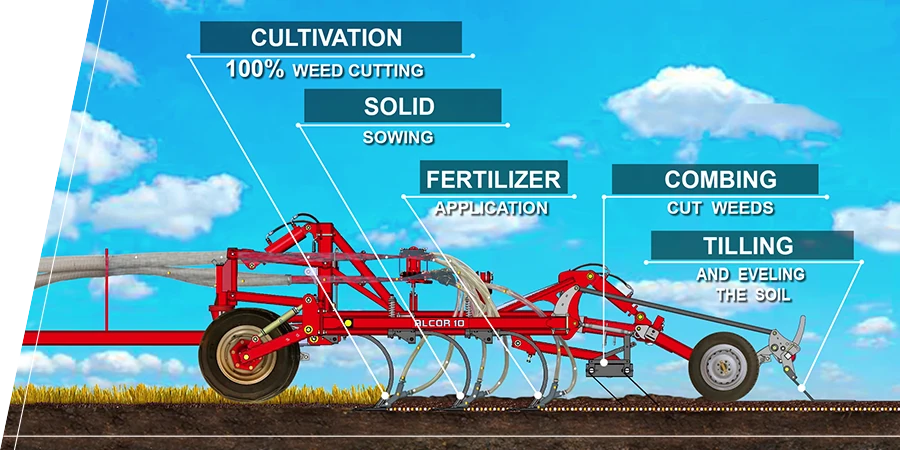 SIX OPERATIONS IN ONE PASS
With seeding complex ALCOR, no additional operations are needed BEFORE and AFTER sowing, and unit itself is capable of performing 6 operations at once in single pass:
• культивацию и 100% подрезание сорняков на глубине от 30 до 180 мм;
• Formation of seedbed and solid sowing with seeding rate from 3 to 350 kg/ha;
• Application of granular fertilizers into sowing rows at rate of 25-200 kg/ha;
• Combing out cut weeds and distributing them evenly over surface of field;
• Rolling of seeding;
• Soil leveling.

WHAT MAKES ALCOR FUNCTIONAL AND WHAT ADVANTAGESOVER COMPETITORS IT HAS?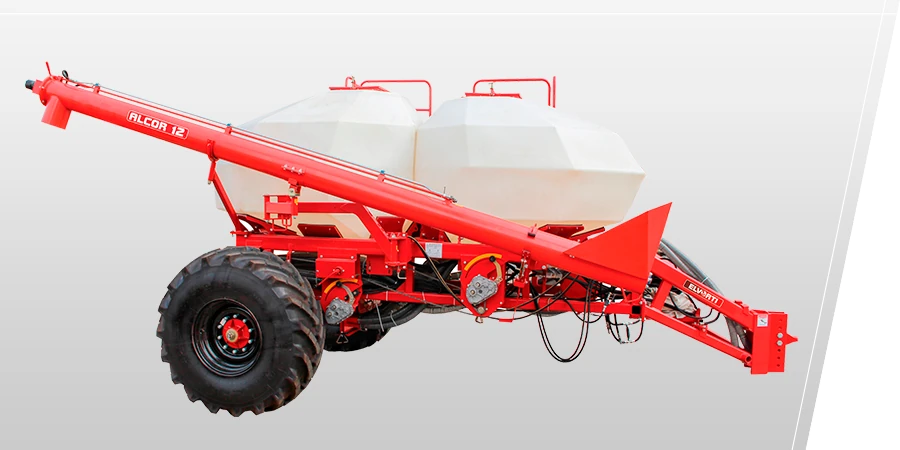 VOLUME MAKES SENSE
One of main advantages is that complex has large plastic tank for seeds with capasity of 9 630 liters. Thanks to this capacity ALCOR can work without additional stops for additional loading.
Using plastic tank reduces weight of unit, improves its performance, due to fact that plastic isn't subject to corrosion.
Hydraulic loading device (screw) - makes it easier to load tank.
ALCOR SEEDING SYSTEM PROVIDES SEEDING MATERIAL SUPPLY FROM TANK TO WORKING UNITS AND CONSISTS OF: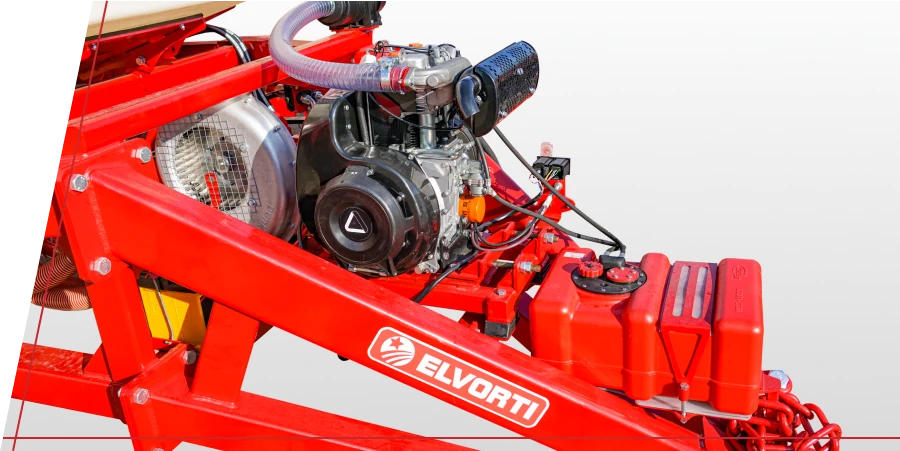 FAN WITH DRIVE
New German-made fan of Punker company with aluminium housing and increased service life, autonomous diesel engine Lombardini (Italy) with capacity of 24 hp is installed on a single platform with rubber pads increases the service life and provide stable air pressure in the seeding system.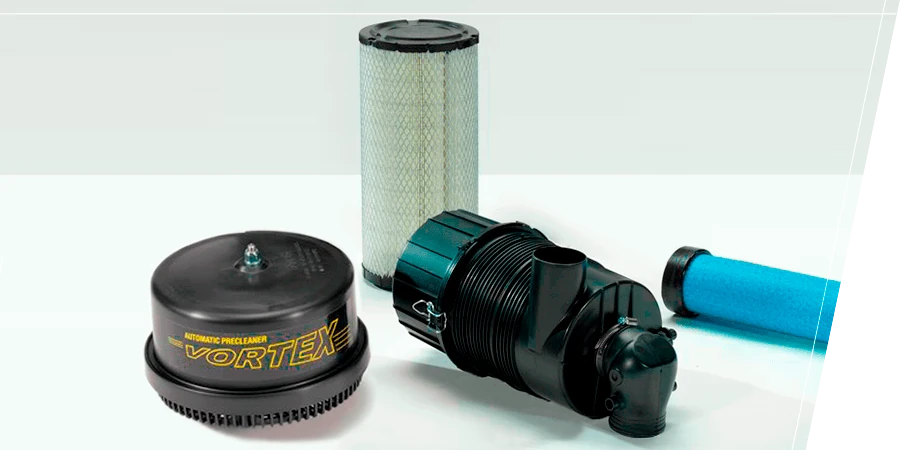 Engine air filtration system
The preliminary air cleaner VORTEX (Italy), which separates and removes most of the particles in the air (dust, rain, insects) and the double cleaning air filter Vikoseal (Italy) have a high dust capacity. The filtration system reduces fuel consumption and extends the life of the engine.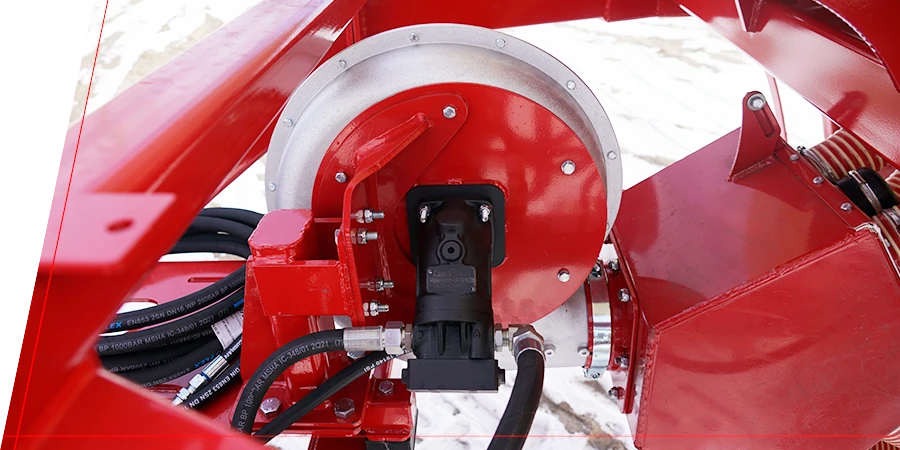 DRIVE UNIT FROM HYDRAULIC MOTOR
We install the hydraulic motor of Parker Hannifin (Sweden) by prior purchase order, this makes it possible to use Alkor with imported tractors without additional fuel costs.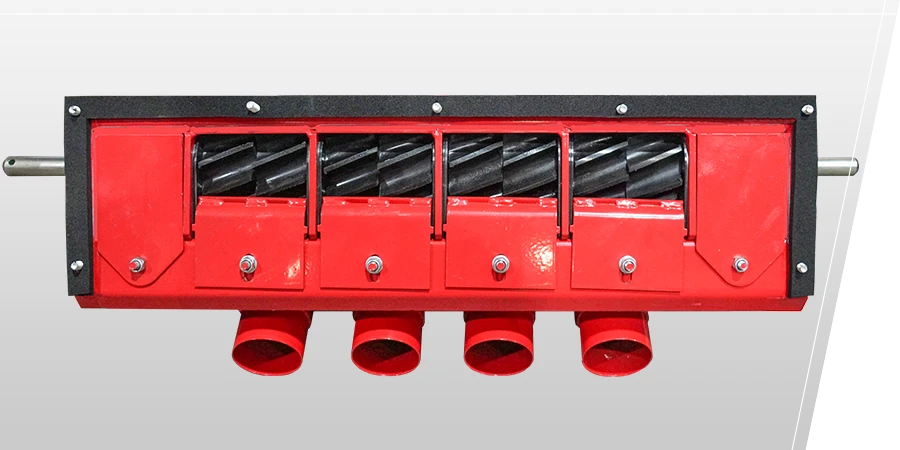 ADJUSTABLE SEEDING COIL UNIT
Block of adjustable metering reel devices installed separately for seed and fertilizer tanks. Coils are made of polyurethane, and therefore have an increased service life.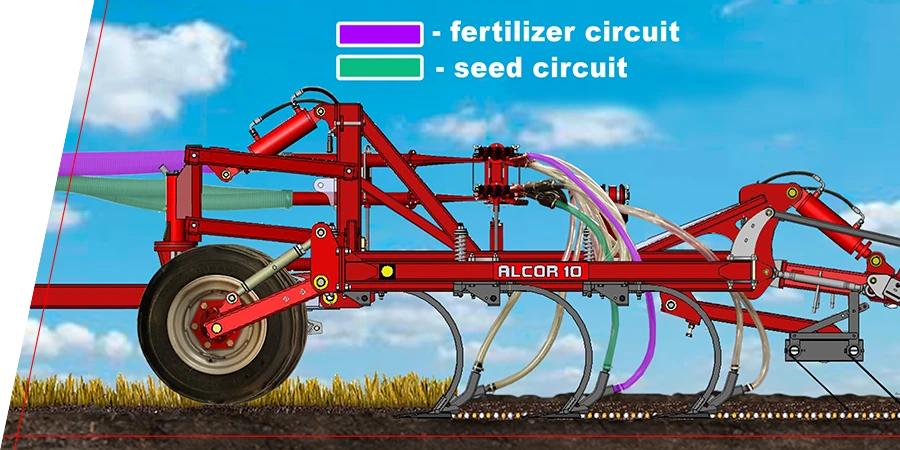 Double-circuit pneumatic system
Double-circuit pneumatic system - for separate transportation of seeds and fertilizers to the working parts. Compared to competitors that have a single-circuit pneumatic system, ALCOR uses separate supply of seeds and fertilizers, which allows you to sow and apply large rates of seeds and fertilizers with the guarantee that they will not clog the grain pipelines.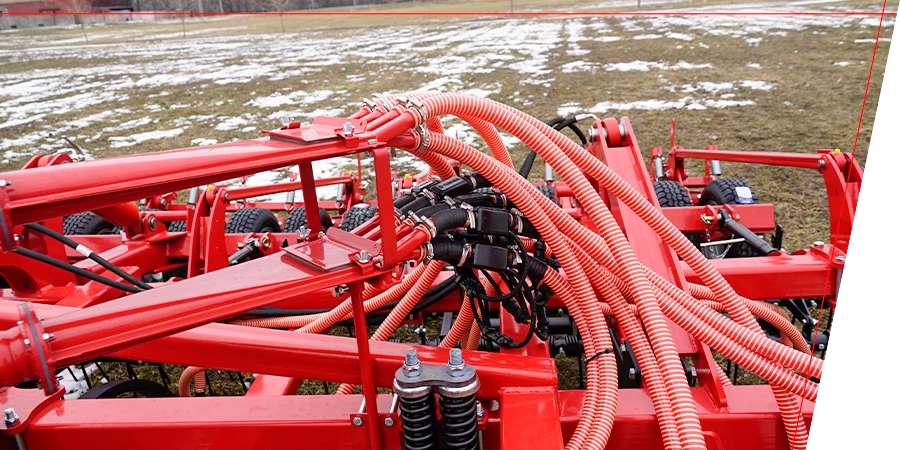 HORIZONTAL DESTRIBUTION HEADS
Pneumatic conveying and horizontal destribution heads that perfectly cope with sowing of even heavy seeds of pulses and legumes. Compared to vertical destribution heads, horizontal destribution heads contribute spreading (12% more) seeds by disc openers.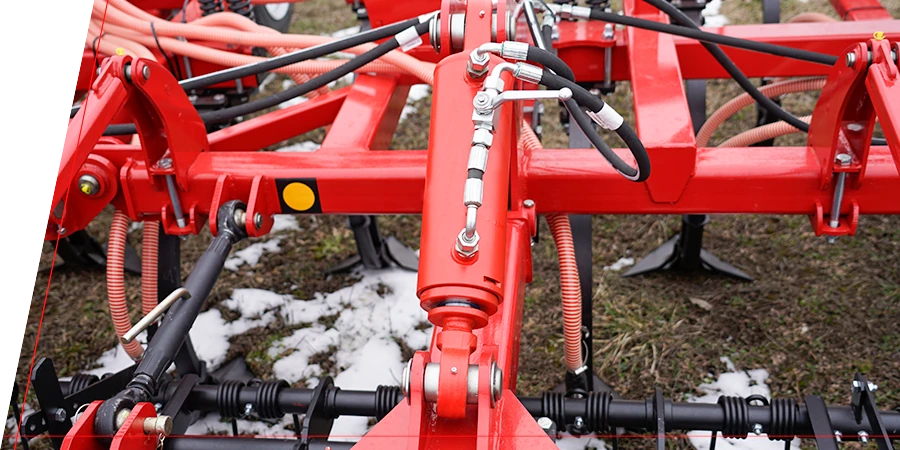 SERIES HYDRAULIC CYLINDERS
Special hydraulic cylinders are installed to ensure a uniform depth level, which simplifies setting and reduces the load on the frame and packers. This solution improves the quality of soil tillage and increases the service life of the seed drill. Depth of seed placement is adjusted by clips on the hydraulic cylinder rods, which simplifies adjustment and saves time.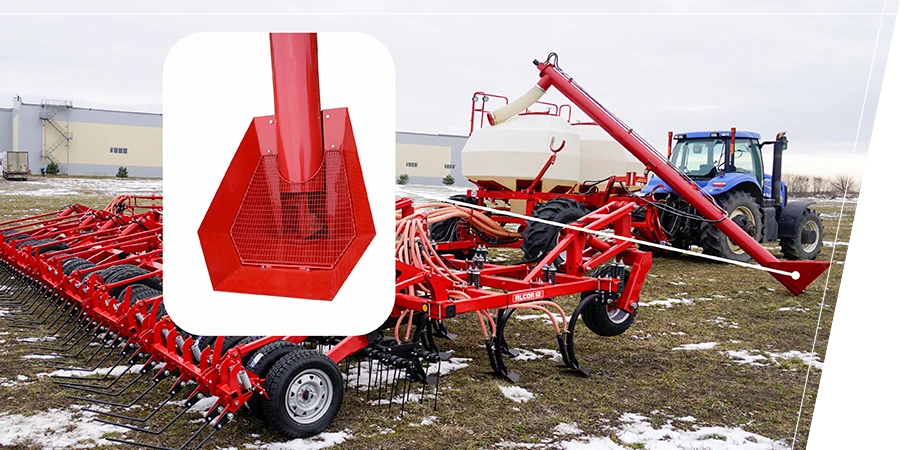 HYDRAULIC LOADING DEVICE
Hydrified loading device (auger) - allows easier loading of the hopper and reduces the time required to load seed and fertiliser. Complete loading of seed and fertiliser takes 25 minutes. For ease of use, the auger is equipped with two switches, upper and lower, which makes the operator's work easier.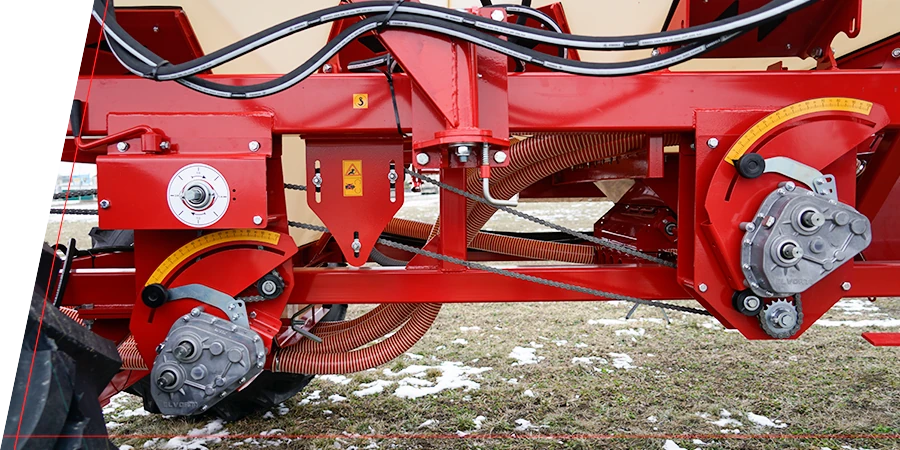 QUICK SETUP, ACCURATE RATES
Seeding complex ALCOR has step less gear mechanism (variator), which provides easy and quick adjustment of seeding rate of seeds and fertilizers, and reduces time for setting up seeding system. You can set any seeding rate as you see fit. Device can be easily adjusted for various types of seeds, caliber, moisture.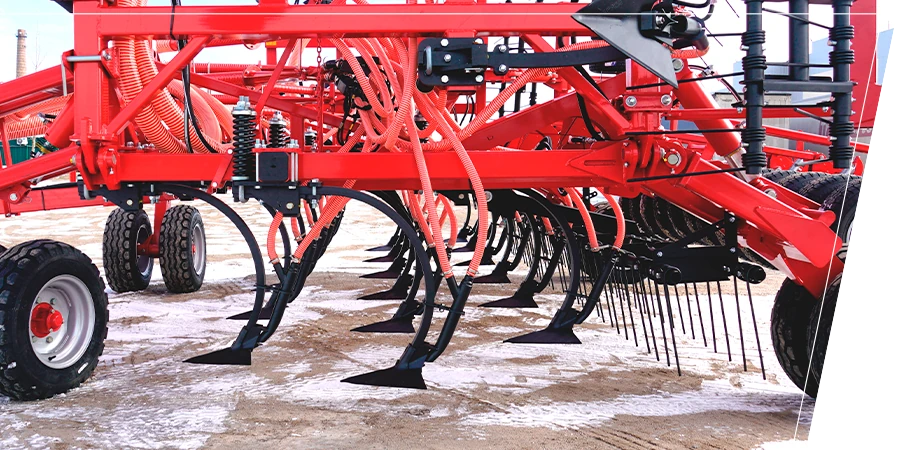 WORKING UNITS
ALCOR is equipped with C-shaped racks and 375 mm wide arrow paws (manufactured by ELVORTI) made of boron steels with increased wear resistance.
Advantage of working units of seeding complex ALCOR is unique design of paw and spreader, due to which earth doesn't get under paw. With help of above, we achieve continuous sowing - seeds and fertilizers are distributed over entire width of paw, and due to fact that paws are overlapped, stripes join and form continuous seedling carpet.
On ALCOR SC, scrapers are specially designed for press wheels. They follow shape of roller and easily remove dirt from it. Harrow is installed behind press wheels, which additionally level field.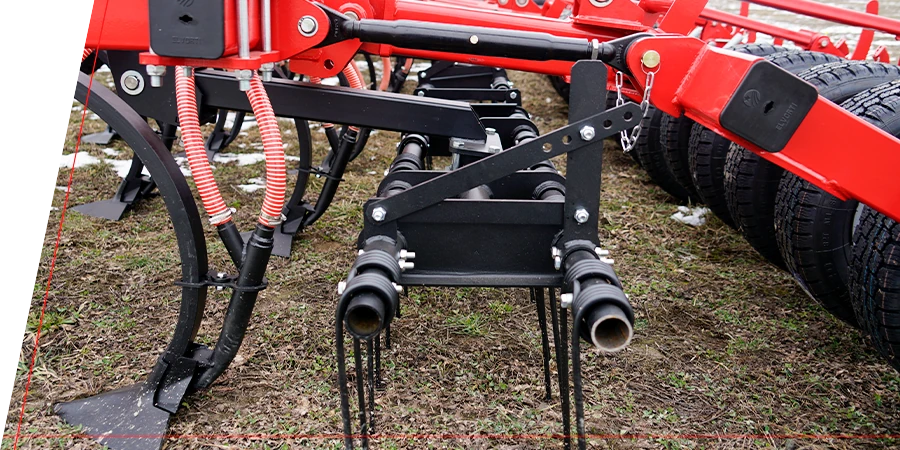 DOUBLE-ROW SPRING HARROWS
Integrated double row harrow levels the soil, scrapes weeds and crop residues to the surface, incorporates seeds and fertiliser and ensures a uniform soil layer over the seeds. Shoots sprout and develop evenly, which increases yields.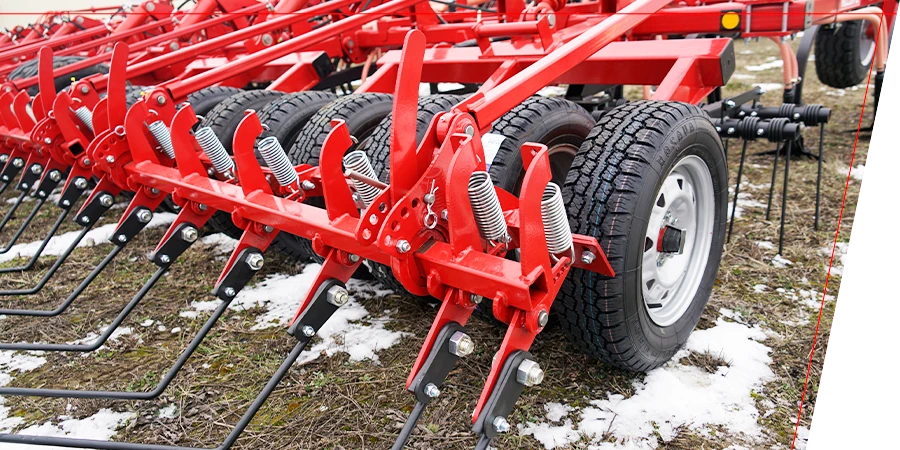 Rolling system
Pneumatic rollers perfectly follow the topography of the field, which allows sowing on uneven fields with a stable working depth over the entire cover width. Rollers are equipped with wipers, which are specially designed for rolling wheels. They repeat the shape of the roller and easily clean dirt from it. Striegels are installed behind the rolling wheels, which additionally level the field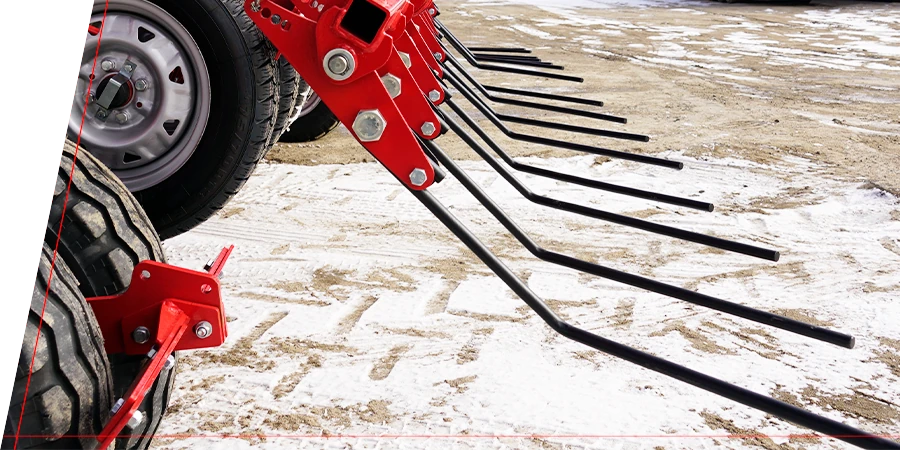 HARROWS
Harrows comb out weeds while leaving them on the surface, break the soil crust after the packer rollers and create a loose soil layer of 3 to 10 mm without compaction to reduce moisture evaporation from the sowing area. The harrows have adjustable angle of attack and soil pressure, which extends their range of use in different climatic conditions.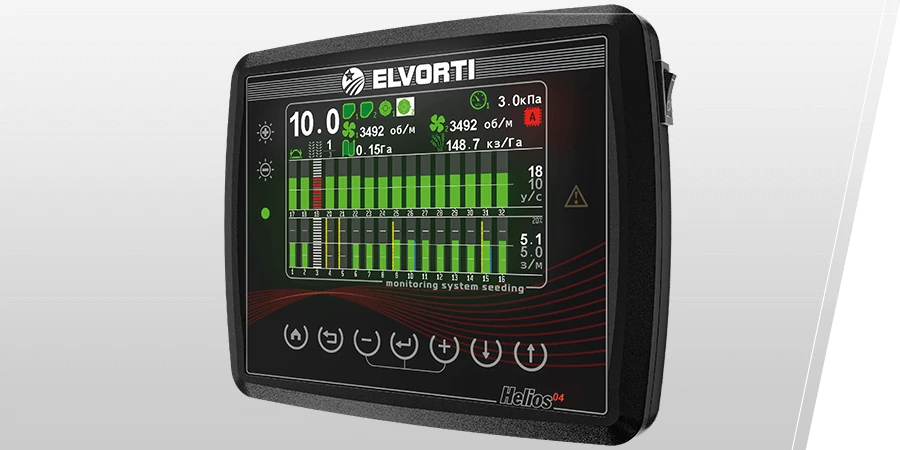 CONTROL ALWAYS FIRST - SIFTINGS ARE DEXCLUDED!
Seeding control system allows the seeding from each coulter to be monitored from the tractor cab directly during sowing. A seeding sensor is installed on each seed pipe, which monitors not only the seeding, but also the reduction of the seed flow. In addition, the system records information such as seeding speed and the amount of area sown. System can be adjusted to any calibre of seed, is reliable, moisture resistant and not sensitive to shaking.
Monitoring sensors are included as standard:
• oil pressure in the air handler,
• battery charge,
• ignition key,
• variator rotation control.
As an option, sensors can be installed:
• level of seeds and dry fertiliser in hoppers,
• a set of fertiliser seeding control sensors for each coulter.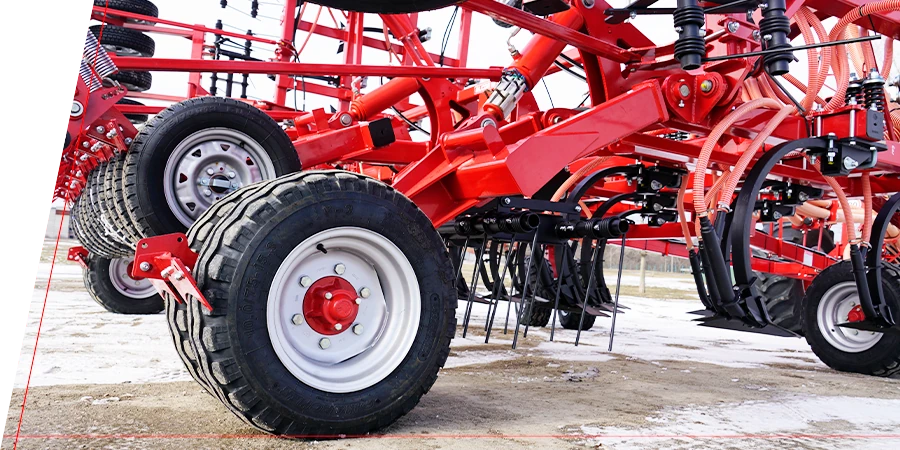 TANDEM TRANSPORT WHEELS
Tandem transport wheels improve obstacle clearance on field roads and increase ground clearance. Mounted in line with the packer rollers, they do not compact the soil in the middle of the cultivator section. Wheels of increased diameter and strength provide additional protection against tyre damage by plant stems and other objects on the field surface.

SO WHY DO FARMERS CHOOSE ALCOR 12?
Today market of seeding complexes is quite extensive, most of complexes meet requirements of modern farmer, therefore it is difficult to choose one or another machine. ALCOR 12 from ELVORTI is optimal solution for your agribusiness:
1. Solid sowing, yield increases up to 25% per hectare, functionality and ease of use.
2. During the daylight hours with the ALCOR 12 sowing complex with tractor of 380 hp. can be sown with high quality from 100 to 150 hectares. This allows planting to be carried out in the shortest possible time.
3. Significant resource saving. One tractor with driver and one grain carrier with driver is quite enough for carrying out whole complex of sowing work. Full sowing cycle is performed in one pass through the field. You save fuel, money and don't worry about the result. ALCOR 12 turns sowing in measured labor process.
4. Moisture saving. Few seconds pass from moment of sowing grain and applying fertilizers to moment of packing and mulching soil with harrow. In such a short time, earth doesn't have time to lose moisture.
5. Seeding complex ALCOR 12 - manufactured at high-tech plant that meets all international standards for production of agricultural machinery.
6. Service support and spare parts can be obtained within 24 hours through an extensive dealer network. This means that during sowing season you will not have to stand idle, waiting for delivery of rare part.
7. When sowing with ALCOR 12 seeding complex with 380 hp tractor, fuel consumption is 7 l / ha. All this reduces costs in production of agricultural products and makes working with ALCOR 12 more profitable in comparison with other units, or, with choosing traditional sowing technology that requires larger fleet of equipment.
Working in agricultural machinery market for over 145 years, "Elvorti" plant always offers farmers not just competitive products, but machinery that is key to profitable agricultural production in today's unstable economic conditions. After all, main task of manufacturer is to ensure efficiency and benefit of using equipment for each of its buyers.